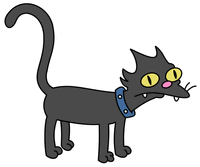 Hi, I am Snowballdacat. I'm an admin on here, and I look forward to working with you to make this into a great wiki. If you have any problems, need help, tutorial etc, feel free to leave me a message, and I'll reply as soon as I can
Unfortunatly I am in the exam season of my life :( So I am concentratinig on my studies. RubberTree is also an admin, so you will probably get a quicker reply if you contact her, as I am incredibly busy. If you desperatly need to contact me, then snowballdacat@live.co.uk is a quick way to contact me. I am currently trying to correct the coding on the Mumble page, so that the 'Appearance' Section comes up in green. I am having problems with that however, so if you are skilled at coding, please contact me and I shall unprotect the page so you can fix it :).
My favorite pages
Edit
Community content is available under
CC-BY-SA
unless otherwise noted.