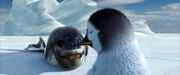 Hello! I am Oolamoo. (from the Ga' Hoole wikia: Coryn's pronounciation of Uglamore) I started editing on the Ga' Hoole wikia and noticed that I could contribute to any wikia that was about a subject I loved.
I do mostly edits that consist of large chunks of grammatical errors and smoothing of language. I try my best to make the text sound official and coherent, and hopefully give the wiki as a whole a more lucid feel.
My Stories
Edit
On the Happy Feet Fanon Wikia, I have started a series titled "The Union". please go check it out and send feedback for improvements!
Hey, sorry guys, I needed to take a leave because of school again, like right now, I have 3 large science things to do, all due on monday, plus a business letter, PLUS a goodbye-and-thank-you speech... yes, a dang big SPEECH for my graduation... I hope to be on later, but I have traveling plans for the summer :\ I hope I will be able to complete my Worlds' Convergance series eventually. Sorry again for the lapse!
-Oolamoo
Back from the dead.. but only at random times. I have not forgotten about my pledge to correct as much grammar as penguinly possible on as many pages as I can, and I will be doing this in short intervals and with no consistency whatsoever. But I will do it... as the Great 'Guin as my witness, I will see it through.
(And ohh god, that last message.. was from 8th grade O.o its been a loong time since then it seems..)
-Oolamoo
My favorite pages (so far)
Edit
Interesting (trustworthy) Websites
Edit
Community content is available under
CC-BY-SA
unless otherwise noted.