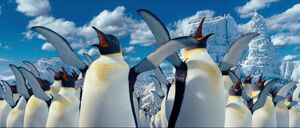 The Opening Medley is a ceremony and a party performed on the emperor penguins by Gloria as they are part of the Rhythm Nation of Emperor-Land. This is where the song "Happy Feet Two Opening Medley" take place in.
Information
Edit
In the teaser trailer of the sequel, the party takes place at the sunset when Seymour is singing to Atticus and Atticus sings back to you. Then, Bo and the baby penguins were shaking the snow out of their body by saying "Were bringing fluffy back, yeah...." As the baby penguin dances, Erik and Bryan appear as Bryan trips over Erik as the "TWO" logo appears as the director was saying to Bryan "Just say your line." Bryan helps Erik by using his nose to get him out of the string and then, he says "Two, Happy Feet" as the "HAPPY FEET" logo hits them as the director says "CUT!". At the end, Erik (in the O) says "Happy Feet Two!".
Happy Feet TwoEdit
Console Version
Edit
Nintendo DS/3DS Version
Edit
Participants
Edit
Community content is available under
CC-BY-SA
unless otherwise noted.