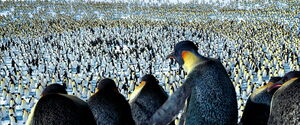 The Exile of Mumble is a punishment in the form of expulsion from Emperor-Land performed on Mumble by Noah the Elder after the emperor penguins dance with him in "Boogie Wonderland". This is where Nestor performs "Leader of the Pack".
Information
Edit
After Noah told everyone to stop dancing, he was mad and upset that the heart of his community have lost their minds, and said that they can only survive here when they're in harmony. He then reveals that Mumble's dancing is the reason the Great 'Guin has stopped giving them fish. Mumble disagrees saying that its actually aliens, but they refuse to believe him and start arguing with the Amigos. Noah is about to banish Mumble until Norma Jean comes in to defend him, but then Memphis steps in only to agree with the Elders and to choose his religion over his family. Norma Jean soon gets mad and starts arguing with Memphis about Mumble, causing him to reveal that he dropped Mumble when he was an egg. Much to everyone's shock, the colony's hatred of Mumble grows stronger. Mumble is then given the option to either quit dancing or leave the colony, he refuses to stop dancing which results in the latter option. As he is about to leave, Mumble, talking in Ramón's accent tells Noah that he will return as soon as he finds out what is really happening to the fish and the Amigos growl at Noah as they follow. Gloria tries to stop Mumble from leaving, but her parents prevent her so she doesn't provoke the Elders. Mumble ignores this as he walks down the path of exile while Nestor sings Leader of the Pack. As they leave, Ramon calls the colony a nation of einy, weny, didilany, prof as together the colony prevail in the wisdoms they trust. 
While Memphis and Norma Jean are arguing, the Amigos are not seen, but when Mumble leaves the group, The Amigos are there.