"Good morning class."
―Miss Viola
Miss Viola (or Viola for a short) is a minor character of Happy Feet and a supporting character of Happy Feet Two and in the upcoming sequel. She is a teacher from Penguin Elementary located in Emperor-Land and she is also the mother of Bo (Boadicea), but her mate is never shown. She is Mumble, Gloria and Seymour's teacher.
Information
Edit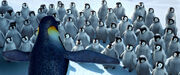 In
Happy Feet
, Miss Viola is known as a teacher in Emperor-Land. She teaches the young penguins how to find their
heartsong
. She enjoyed
Seymour
's heartsong "
The Message
" and said "I could really get jiggy with that. Lovely." She also fancied
Gloria
's few lines of her heartsong "
Boogie Wonderland
." After hearing that, Miss Viola is very excited, and wants
Mumble
to sing. But he failed. Miss. Viola presumed something happened while Mumble was in early development (which was the case,
Memphis
dropped Mumble), but Norma Jean and Memphis insisted that wasn't the case (although Memphis was aware of it). She calls his parents and says that maybe only
Mrs. Astrakhan
can solve this problem, unknown to Viola, Astrakhan failed, too (for the first time as a matter of fact).
Miss Viola is later seen dancing with Seymour with the Nation's rendition of "Boogie Wonderland."
Miss Viola appears as a secondary character in this movie. After the moment about her and Mumble, she begins to not appear, if she appears, it's just for a second. (like in the ending, we can see her again dancing)
In
Happy Feet Two
, she appears with her daughter,
Boadicea
. And becomes one of the trapped emperors after the big iceberg hits enough to block the way. And she seeing Bo with her comrades, return back. Mumble, who needs to call the Adelies, then Bo wants to replace Mumble and Miss Viola believes that she can do it, although everyone else thinks there's much danger in there. Bo does do it, and Miss Viola is very proud of her.
Personality
Edit
Miss Viola is a patient and loving teacher. She showed genuine concern when she discovered that young Mumble couldn't sing. She has many relationships with others, like Bo, her own daughter, but it is unknown who her mate is. 
Bo and Miss Viola communicate by yodeling at each other.
Relationships
Edit
Relatives: Boadicea (daughter)
Allies: Mumble, Gloria, Seymour, Erik, Atticus, Mrs. Astrakhan, Noah the Elder, Eggbert the Elder, The Elders, Memphis, Norma Jean, Ramón, Nestor, Lombardo, Rinaldo, Raul, Lovelace, Sven, Carmen, Bryan the Beach Master, Shane, Darren, Wayne the Challenger, Humans
Some fans speculated that Seymour liked Miss Viola as he asked her to dance with him and her earlier statement to liking his heartsong.
Community content is available under
CC-BY-SA
unless otherwise noted.