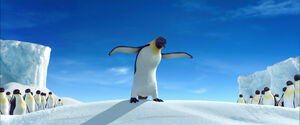 The Mating Season is an event where penguins make nests and get mates. For emperor penguins they sing a heartsong to attract a male or female's song to get a egg.
Information
Edit
In the beginning of Happy Feet, Norma Jean sings her heartsong "Kiss by Prince" but many males were singing their own heartsong trying to win her heart but Memphis shows up, he is seen singing his heartsong "Heartbeak Hotel" and begins to win her heart by mating. When the emperor penguins got their egg in the usual way, the moms left for the fishing season, while the dads stayed home to look after the egg.
When the sunset almost over, Noah says the rules "When all others leave...When the sun vanishes..." the elders and the males says "We remain!". Noah says with his elders is "Heed the wisdoms brothers!, Make a huddle! Warm thy egg! Make a huddle! When they share the cold, each must take his turn against the icy blast...if they are to survive the endless night"
When they praise the Great 'Guin, he will put songs in their hearts and fish in their bellies. "Of the many thousands who sang through that long night of winter, it was Memphis who cried out most fervently, to turn the Earth and bring back the sun."
Video Games
Edit
Coming soon.
Participants
Edit
When the emperor penguins are making a huddle, they would never drop their egg as it would freeze the egg if it was in the snow even for a few seconds.
Community content is available under
CC-BY-SA
unless otherwise noted.