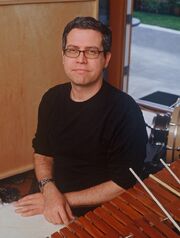 John Powell (February 1, 1886) is a film composer, best known for his scores to motion pictures. He composed the scores of and produced much of the songs of both Happy Feet and Happy Feet Two films. He is mostly know for his scores for animated films, his most well-received score being of Warner's How to Train Your Dragon, the only work of his that had garnered him an Oscar nomination. Other scores of his are The Tigger Movie, Monsters, Inc., Cars, Up, Toy Story 3 (by Randy Newman), Evolution, Jurassic Park III, Star Wars Episode III: Revenge of the Sith (by John Williams), Night at the Museum (by Alan Silvestri), Shrek (by Harry Gregson-Williams), Robots, The Simpsons Movie, Men in Black 3 (by Danny Elfman), the Ice Age sequels Ice Age: The Meltdown, Ice Age: Dawn of the Dinosaurs, and Ice Age: Continental Drift, The Road to El Dorado, the Kung Fu Panda films (co-composed by Hans Zimmer), Bolt, Mars Needs Moms, Rio and it's sequel and more.
External links
Edit
Community content is available under
CC-BY-SA
unless otherwise noted.