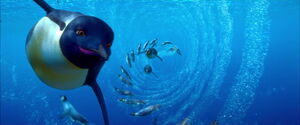 "Do It Again" is a song by American rock band The Beach Boys, written by Brian Wilson and Mike Love. This song also appears in Happy Feet and subsequently was featured on the film's soundtrack. It is about when Mumble, Gloria, Seymour, and the Emperor Penguins swim in the ocean to find some fish.
It's automatic when I
Talk with old friends
The conversation turns to
Girls we knew when their
Hair was soft and long and the
Beach was the place to go
Suntanned bodies and
Waves of sunshine the
California girls and a
Beautiful coastline
Warmed up weather
Let's get together and
Do it again
With a girl the lonely sea looks good in moonlight
Makes your nighttimes warm and out of sight
Been so long
(Hey now hey now hey now hey now hey now)
(Hey now hey now hey now hey now hey now)
Well I've been thinking 'bout
All the places we've surfed and danced and
All the faces we've missed so let's get
Back together and do it again
Ow!
Community content is available under
CC-BY-SA
unless otherwise noted.